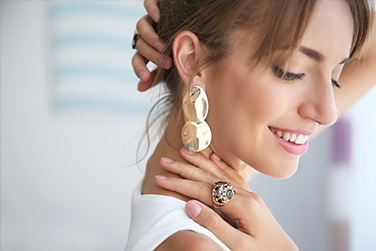 How to buy Jewelry like a Pro.
A customer can easily get lost once they step into a store selling
jewelry
. With a wide range of items on display, a novice falls an easy prey for sellers, who can easily dupe them.
To avoid such situations and to be able to choose the best
jewelry
for yourself and your loved ones, we compiled a list of tips:
1. Never buy on your first visit to the store. It is always better to take a card, compare prices, come back and seal the deal.
2. Bargain – that's the key word. Do it all the time, offer less, offer half of the price.
3. There is no such a thing as natural colored
gemstones
. The only exception is pearls but natural pearls are rare. Therefore, whenever you are buying a
precious stone
, make sure to get a full disclosure about how the stone acquired its color and then show it to an independent expert. The seller should know that you might return the piece if they gave false information.
4. Jewelers usually use metal to enhance or hide the quality of what they are selling. That's why it is always wise to ask the seller pull the stone for you, so that you will be able to examine it properly with the loupe. The more expensive the stone is, the more it makes sense to do that. If the seller – for whatever reason – doesn't want to do that, suspect the worst.
5. Anyone can make a stamp Pt or 18K so if you want to check that – it is simple. If it is platinum, weight it with your hand, The white
gold
will usually be lighter. Also, use a loupe and try to see if there are any imperfections on the stamp.
6.
Jewelry
is never an investment – the moment you get outside of the
Jewelry shop
, the price on the item you purchased will drop.
7. Never look at a diamond in the sunlight. Every diamond, no matter how poorly cut, will shine in the sun.
8. Always seek an appraise of an independent expert. Do not ask your
jeweler
to recommend someone – simply do your homework.
Next time you go hunting for gold or
silver jewelry
, make sure to use these tips – they will make you look and shop like a pro!